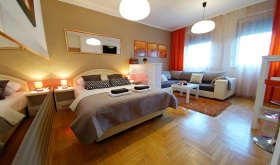 GALA

Location: New Belgrade
Persons: 4
Area: 30 m2
If you are looking for a nice studio apartment in New Belgrade in the vicinity of KOMBANK Arena - Gala is the right choice for you! The apartment is very pleasant; its space is well organised and painted in refreshing colours with two comfortable double beds. Several renowned pizza parlors are in the close surroundings of the apartment building, whereas the Arena is right across the street (Arsenije Carnojevic Boulevard)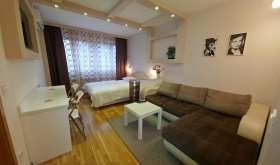 OASIS
Location: New Belgrade
Persons: 3
Area: 28 m2
OASIS Apartment in New Belgrade was built for the purpose of short term lease. Based in the most beautiful part of New Belgrade, it represents more than just a good lodging for three adults. Zemun Wharf with some of the most famous club barges is a mere 200m away from the flat, and a high frequency public transport line (No 16) to the city center is in front of the building.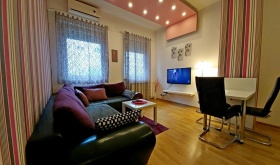 ETNA

Location: New Belgrade
Persons: 4
Area: 36 m2
ETNA is a charming little one bedroom apartment in New Belgrade, located in the same apartment building where GALA ATHOS and ARENA apartments are. Its fully utilized 34 square meters provide a pleasant accommodation for up to four people. With a shop on the ground floor, a couple of good restaurants in the neighbourhood, KOMBANK (Belgrade) Arena across the road and a 10 minutes walk from Delta City, ETNA apartment is a great option of short term rental in Belgrade for all occasions.
ENIGMA
Location: City center
Persons: 3
Area: 35 m2
ENIGMA is a fully renovated studio in the very center of Belgrade in a quiet street very near the pedestrian zone. Just a hundred steps away from Knez Mihailova street, this beautifully lightened, backyard facing apartment can accommodate up to three adults.Staying in ENIGMA means to feel Belgrade.
VERONA
Location: City center
Persons: 6
Area: 65 m2
A two bedroom apartment, located in a courtyard building, in the very center of Belgrade and a perfect dwelling for six adults looking for a short term stay lease. Just a hundred meters away from Knez Mihailova street, snuggled in the central block of a residential complex, between a couple of very quiet streets, you can literally hear a pin drop in this apartment. Make Verona apartment your short term rental choice and start discovering Belgrade from it most central setting.
BELGRADE

Location: City center
Persons: 2
Area: 38 m2
Halfway from Railway station to Terazije on the slope of Balkanska street, is the home to our apartment Belgrade. Belgrade studio apartment is the epitome of cosy accommodation for two adults in Belgrade.You will be within walking distance of Knez mihailova, very close vicinity of the Railway station and spitting distance of Terazije square. If you want to be in the center of Belgrade's events, your short term renting choice should be Belgrade Apartment.
NINE

Location: New Belgrade
Persons: 6
Area: 61 m2
NINE is an excellent, brand new serviced apartment in Belville, New Belgrade. A bedroom, a lovely balcony with a wicker set, dedicated parking spot, contemporary interior, a great residential complex with an abundance of facilities and a brilliant connection to the city – all of that pretty much summarizes NINE's most important features.
MOSCOW

Location: Vracar
Persons: 4
Area: 52 m2
Our apartment MOSCOW is located in the center of Belgrade, in a gorgeous part of Vracar, better known as Cubura. It is situated at the end of the street, five minutes walk from Slavija Square. Together with a place in parking garage, a separate bedroom and lovely surroundings, MOSCOW apartment is a very good accommodation in Belgrade for four adults.
ATHOS

Location: New Belgrade
Persons: 2
Area: 25 m2
A small, modern studio apartment in the vicinity of Belgrade Arena, ideal for singles or couples and fairly adequate for three persons - this, in short, is the description of our ATOS apartment in New Belgrade. Facing the building's atrium, the apartment is very quiet and rich with natural light. Its convenient location, AC, central heating system and the WI-FI connection make ATOS a benchmark of an excellent serviced apartment accommodation in Belgrade for businesspeople and tourists alike.
DELUXE
Location: City center
Persons: 3
Area: 32 m2
Conceptualized by a prominent Belgradian interior designer, equipped with good taste and agreeable atmosphere, DELUXE apartment Belgrade is situated in Majke Jevrosime street just behind the National Assembly Building (House of Parliament). With an array of details that live up to its name, DELUXE is an ideal abode for those who leave nothing to chance. DELUXE is truly luxurious in a range of its characteristics from its central location to the abundance of design details.
GLORIA

Location: New Belgrade
Persons: 4
Area: 46 m2
GLORIA is an excellent short term rent apartment in Belvile residential complex in New Belgrade, that can accommodate up to four people. It's one of the four identical apartments in our offer, which are very close to each other, so they can be combined for group visits. Guests have a parking spot at their disposal.
EIGHT

Location: New Belgrade
Persons: 4
Area: 46 m2
EIGHT is what should spring to mind when you say a proper serviced apartment. It's located in New Belgrade's best residential complex, has a separate bedroom, a terrace, its own parking spot, a washing machine and a damn fine eight floor view. As it shares the building with three other apartments it may also be suitable for groups of visitors.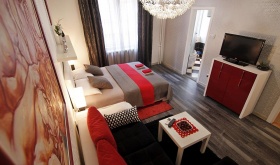 PRAGUE
Location: City center
Persons: 3
Area: 30 m2
In one of the most romantic streets in Belgrade, in the very center of the city, and at the very spot that inspired many a painter to eternalize the sight of the left bank of Sava river and Belgrade's bridges, is our apartment PRAGUE. Surrounded by memories and the tumultuous history of Belgrade, Prague is the best place to experience Belgrade to the fullest extent.
ARENA

Location: New Belgrade
Persons: 2
Area: 25 m2
The smallest and by far the most affordable apartment in our offer is located in New Belgrade in the same building where apartments GALA, ATOS and ETNA are. It is an ideal choice for singles or couples who search for a decent accommodation in Belgrade in the proximity of Kombank arena in New Belgrade. Wi-fi Internet, a snug little cafe on the ground floor, several prestigious pizzerias in the neighbourhood, and plenty of parking space - all there to welcome You to the ARENA apartment.
MIMOSA

Location: New Belgrade
Persons: 4
Area: 46 m2
You would like a state-of-the-art apartment in New Belgrade, with a garage, a separate bedroom and a terrace? The wonderful Belville residential complex, some six kilometres away from the center, is a home to our Mimosa apartment which is a perfect rental choice for four adults. With a large shopping mall (Delta City) which is part of the complex, proximity of the Sava Wharf and a modern surrounding area, Mimosa is the right choice for anyone who is looking for a luxury short term rental apartment.
BALKANS

Location: City center
Persons: 5
Area: 60 m2
With its location in upper part of Balkanska street in the very center of the city, Balkans apartment can become a very cozy abode for up to four adults. This agreeable Belgrade accommodation is just 50m away from Terazije square. Balkans apartment has a separate bedroom, an AC, central heating, Wi-Fi internet access as well as its own parking spot in the adjacent building.
SIX

Location: New Belgrade
Persons: 4
Area: 45 m2
SIXER is one of five practically identical serviced apartments in our offer in New Belgrade's Belville. A separate bedroom, a closed terrace and a dedicated parking spot make this Belgrade apartment a perfect accommodation choice for guests who come to Belgrade with their own vehicle
THEATRE
Location: City center
Persons: 4
Area: 30 m2
Theater apartment is located in the heart of Belgrade, next to the National Theater Building, and about 100m away from both the Republic Square and Knez Mihailova street. If you open the windows of the Theater Apartment in the summer, soothing sounds of live piano music coming from the "Writer's Club" will fill the room.
ALEXANDRIA

Location: Vracar
Persons: 6
Area: 60 m2
A hundred feet away from Slavija Square, on the third floor of a building with an elevator is our apartment Alexandria, As its facing the yard, it makes and incredible contrast between the tumult and commotion of Mekenzijeva street and the peace and quiet of the apartment. With its two bedrooms, a terrace, a designated parking spot and Wi-Fi internet, Alexandria is an excellent choice of short term accommodation for six adults. Welcome!
PALACE
Location: Center
Persons: 2
Area: 30 m2
Palace apartment in Kosancicev Venac street, is one of the few remaining places where the spirit of nineteenth century Belgrade roams on the cobblestone. A beautiful, bright studio apartment, furnished with taste and functionality, PALACE is reason enough for a visit to Belgrade. Absolutely perfect for couples.