GETTING AROUND BELGRADE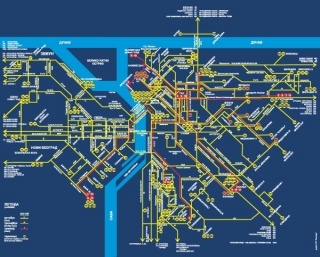 ?There are many ways to travel around Belgrade. With almost two million people living in wider Belgrade area, we've got numerous means of transportation (none of them is subway, unfortunately.)
The best and maybe most relaxing way to get around Belgrade is on foot. If it is not much of a distance and it's nice weather outside, you should definitely take the opportunity and take a walk through Belgrade wide streets. Our apaprtments are located in beautiful city neighborhoods, and streets in those areas are safe, clean, with interesting arhitecture and parking lots. It is certainly a unique sensation to get to know Belgrade at your own pace through its little hidden gems, sometimes far away from tourist spots.
If at some point you start feeling tired, you can always hail a cab, which will be your fastest and most comfortable option, but also the most expensive one. All you need to do is to get to the curb, raise your hand and in no time at all you one of thousand TAXI drivers will be at your disposal. Drivers are usually friendly and open for conversation, so feel free to ask them about some good spots in the city, interesting sights, cool night clubs, affordable restaurants, and generally pretty mucha anything that concerns Belgrade streets, because these guys know the city inside and out.
If you are looking for more affordable means of transportation, you will find that Belgrade is very well interconnected when it comes to public transport as well. Both buses and trams are available on both sides of Sava river, and no matter where you are in Belgrade, a bus stop is nearby. Tickets (BusPlus tickets are valid in all modes of public transport) and maps can be bought in most kiosks, so you are covered in that aspect as well.
In case you have a taste for a little adventure, you can take a ride on BEOVOZ (BEOTRAIN). Beovoz routes were constructed in the nineties as a part of Belgrade subway network (the plan of building a subway in the capital exists from the 1970s, but until this day it still only lives on paper). Anyway, the existing part of the subway branches out far and wide, from New Belgrade to Pancevo. From New Belgrade you can go even further, to Batajnica, and on the complete opposite side of the city, you can get as far as Resnik (and that is far).

Whichever means of transportation you choose, you will get to your destination quickly and safely. Belgrade is yours to conquer.