WHEN IT COMES TO MONEY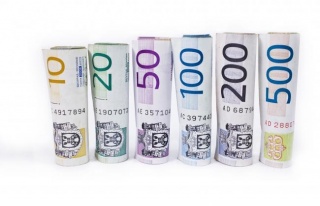 Payment and exhcange offices
Valid currency in Serbia is
SERBIAN DI

NAR (RSD

)
. There are coins in the of 1, 2, 3,10 and 20 dinars,and paper bills in the value of 10, 20, 50, 100, 200, 500, 1000, 2000 and 5000 dinars.
First important information you should know is to always exchange your money only in authorized exchange offices, and there are many many of them, especially in the city center. You will probably get a chance to change your currency in the street, but that is both illegal and dangerous. Most banks have ATMs that work 24/7, so you can also use that way of getting your money's worth in case you need it for something in the middle of the night. Banks and exchange offices establish their rates on their own, but those rates should at all times be displayed and visable for customers. Rates are always better in exchange offices, so unless the need arises, try not to exchange your money on airports, in hotels or banks (you can simply change a small sum for the urgent situation, and then later find a certified exchange office).
When it comes to credit cards (AMEX, Diners Club, Mastercard, VISA), you can withdraw money from an ATM at all times, or you can pay directly with the card in hotels, restaurants and most shops. Information about which cards exactly are accepted where are usually displayed at the entrance.
Working hours
Most banks and post offices are open from 8 am to 7pm (08:00-19:00h) on the working day, from 8am to 1pm (08:00-13:00h) on Saturday, and they are closed on Sundays and national holidays. ATMs are at your disposal 24/7.
As for the shops, most of them are opened from 7am to 9pm (07:00-21:00h) every day, except on Sunday, when they work from 7am to 3pm (07:00-15:00h). Supermarkets are open every day from 8am to 10 pm (08:00-22:00h), seven days a week.
Non-working days
In Serbia, non-working day are:
January 1st and 2nd
January 7th- first day of Orthodox Christmas
February 15th - National Day in Serbia
May 1st and 2nd - International Labor day
Easter holidays - from Good Friday to Easter Sunday
In these periods, only some shops and emergency institutions actually work.