At the Horse in Belgrade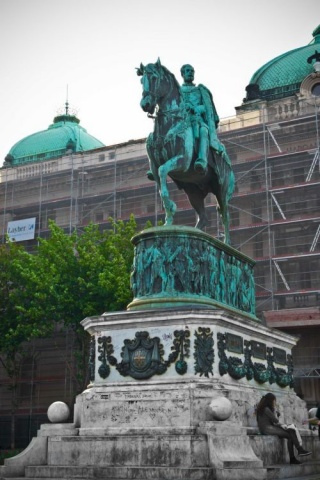 At the horse
(pronounced
cod conya
in Serbian) is the favourite meeting point in Belgrade, for people who aren't from Belgrade. Incidentally, it is also
the least practical place for the stated purpose
, because the person you are trying to meet gets lost in the torrent of people trying to meet each other. At the Horse in Belgrade is a favourite starting spot for all kinds of violent protests, high risk events, free concerts and other overcrowded manifestations - so, before somebody tells you to meet them
Cod Conya
do check the media if any kind of gatherings have been announced there. Following Picadilly Circus, that started (and in the menatime ended) the tradition, during the 1980s and the 1990s,
Cod Conya
has become a gathering spot for Belgrade's youth of alternative musical taste (of various subcultural qualifications).
In essence when you are told to meet At the Horse, it means
be in the area surrounding the equestrian statue of Prince Michael Obrenovich at the Republic Square in Belgrade
. According to an urban legend the position of the hoof (the horse's one front leg up) symbolizes that the beloved Prince was assassinated (just like all other decent politicians and dignitaries of latter day Serbia). The pedestal is emebellished with ba-reliefs of important events from his reign and communicates his legacy to future generations of inahabitants.
Cod Conya
is Belgrade's most central point and the home to the country's most important cultural institutions
The National Theater
and
The National Museum
(which we hope to see open for visitors by the end of the first half of the third millenium).
Ever since Belgrade was bestowed with a Millenium Clock made out of stainless steel and glass (whcih blends into the surroundings like a flock of beserk penguins blend into a savannah), that is slightly secluded from the hustle and bustle round the horse, anoyone born and bred in Belgrade will ask you to meet them there - that is by the clock.
RETURN TO BELGRADE SLANG TOPONYMS DICTIONARY