The old year is coming to a close. While the majority of the developed world is enjoying holidays and festive euphoria, Belgrade is waiting for the 31st December to catch up (and then compensate throughout the whole January). Apart from vain New Years resolutions, that we're probably going to break on the 2nd January, this period of the year is an excellent time to summarize accomplishments and give a shot at planning the future. Belgrade apartments for short term rent market has been as capricious as a diva in a menopause throughout 2014, and instead of infinite ramblings that may or may not lie ahead we've thought of a more appropriate way to see the old year out and greet the new one in. With a new semi-precious stone in RENTASTAN-s modest little diadem.
The officer from Kapetan Mishina Street is a typical representative of Rentastan's aesthetic preferences. We have always displayed a conspicuous tendency towards small compact and tidy studios or one bedroom apartments and CAPTAIN can be pretty much summed up in the phrase. At a glance it's an agreeable and well organised little flat consisting of three separate room, and a terrace that can accommodate up to four persons. If you look closer you'll discover a number of little details that make it an affordable and more than just decent accommodation.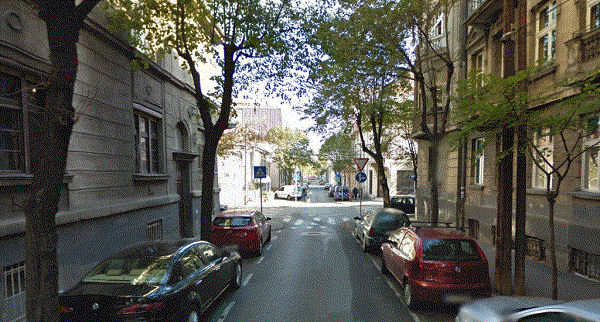 Should you opt for it as your short term rental choice, the fact that you'll be dwelling in a brand new building in one of the oldest urban quarters of Belgrade should be a fine justification for its price. Huddled in a network of quiet one way streets of Dorchol, its neighbourhood host some of the finer historical landmarks of a genteel Belgrade, that is beoyond recall. It also hosts everything elese that would make it perfect as a short term rental choice. The street it's in has got a 24/7 supermarket and a wide variety of fast food joints. The hairdressers, beauty parlours, exchange offices, banks and many other useful services are all in the proximity of the apartment.
Somewhat paradoxically, it is CAPTAIN that provides a warm and gentle touch of the spoiling benefits of civilization. Nested on the fifth floor is a small serene space of 35 square meters floor area that have been utilised unequally and rather pragmatically. The bulk is taken by the living room, which may function alone as an open concept studio. It has a click-clack couch (which can be folded into a bed for two), a coffee table and interesting wooden shelves that serve a primarily decorative purpose. Flat Screen tv with of an acceptable width (for local standards) is hung on a slate of decorative granite tiles. Two wooden cylindrical tables are symmetrically placed on its sides and a couple of little embellishments (a decorative die and a wooden chest for jewelry and other trinkets). The wall and the table lamp combined with all that wood, make the atmosphere almost rustic and warm.
A distinctive feature of this apartment is definitely its miniscule kitchenette. The wooden bar, partly coated in battleship grey tiles, partitions it from the rest of the living room. Two electric burners and the kitchen sink have been squeezed onto a very small surface – so small that you might mistake it for an ikebana. Beneath them is a refridgerator and above them a cupboard with a cooker hood. The bar itslef has a small wooden cabinet built in it, on the outer side. A pair of retrograde bar stools made out of wreath iron and wood stand on its sides.
The bathroom is comaparatively tiny, but with a contemporary streak and of fitting style. The tiles in ultramarine and creamy contrast are a breath of freshness in the overtly rustic atmosphere. It also has a nice shower cabin with a shelf for toiletries. The bedroom is in fact the most spartan bit of the apartment. The very simple bright brown furniture, made out of chipboard and wood, reminds a bit of childrens holiday resorts from the Socialist era, but is comfortbale all in all. The double bed can easily sleep two.
The last is the delightful little balcony with a view that stretches all the way to the Danube. The small garden furniture set makes it a perfect place for a morning coffee.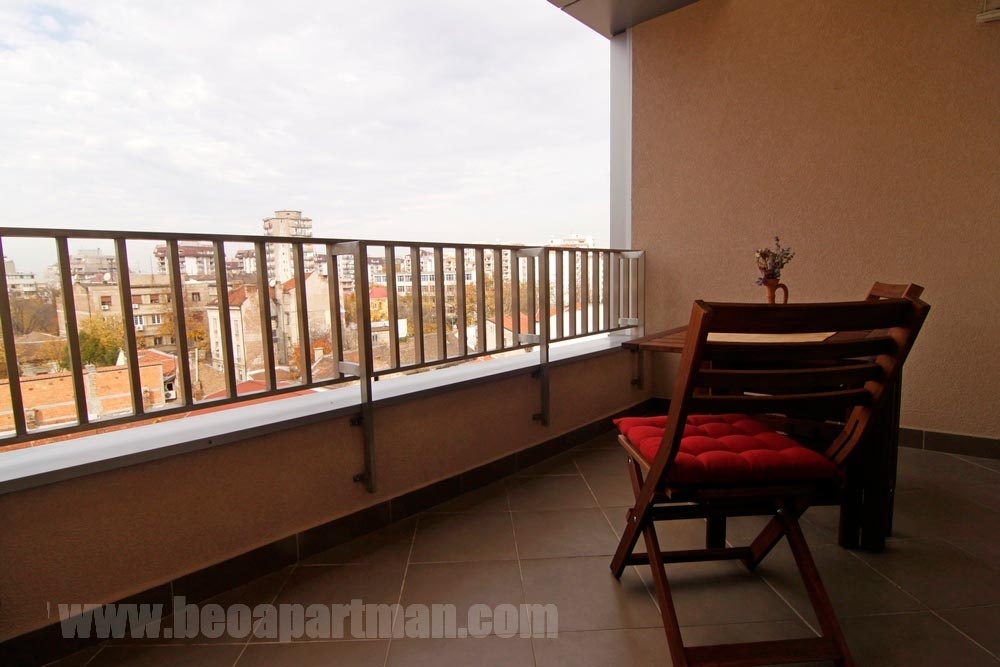 All of the aforementioned is by no means special. It's satisfactory at best. In case you are musing on CAPTAIN as a choice of Belgrade apartment for short term rent, zou should know that there is one thing that it does have unlike many of its counterparts in Dorchol. It is the parking spot in the apartment buildings undergound garage. Unfortunately, surchargeable at a 5 euros per day rate. But, in the third zone of the on street parking system (which pretty much surrounds the area) where the parking is limited to three hours tops, it definitely beats the 15 euro full day parking fine.
Unlike the majority of our apartments, CAPTAIN is not exclusive to rentastan's offer. You are more than likely to find with other short term rental bloodsucking .. sorry we meant agencies. Although we cannot give many guarantees there is one that we can – a level of upkeeping and a certainty that it is a fine representative of affordable and more than just fine short term rentals in Belgrade. We hope it will stand tall with the rest of the apartments in our offer for years to come, (particularly the year to come) and see off many satisfied guests as others in our echellon have.