For starters, a reality check, because it might be necessary when writing anything concerning Belgrade. Comparing to some other European capitals, Belgrade is small and somewhat outdated. This doesn't mean that we don't have amazing sights and our unique ways of rocking our night life, on the contrary. But we do strongly suggest that you should try and not compare Belgrade with Europe too much, as you will be disappointed to some point. The best you can do is to have no expectations and then enjoy fully everything that comes your way (this seems like a fair advice for life in general, it would seem). With that little wisdom gem out of the way, we can talk business. Our post Apartment for a day near Delta City will be dealing with the area of New Belgrade, more specifically Belville and what are its advantages when it comes to short-term apartment rental in that neighborhood.
Now, Delta City was the first modern mall in Belgrade and it is a complete success to this day. Of course, everything is much easier when you do it first (today in Belgrade you can find malls Usce and Stadion as well), but Delta City managed to uphold its standards throughout the years, partially because of its magnitude, and partially because of the great neighborhood in which it is located. Belville that is in about fifty feet from the mall exists for some seven years now, and by its beauty and novelty it is still unprecedented (though some serious competition is starting to emerge). Minimalism, shades of white, beautiful playgrounds, squeaky clean buildings, as well as the whole complex – all of these characteristics speak for themselves when it comes to comfort Belville has to offer. Not to sound like an infomercial, but unless you are tied to the city center by a rope of meetings and other obligations, Belville is definitely a great place to stay, just because everything you need, you'll find on your fingertips. Of course, the lady star of this post is our new apartment Six, nested in one of the Belleville flowers (each building in the complex is named after a flower).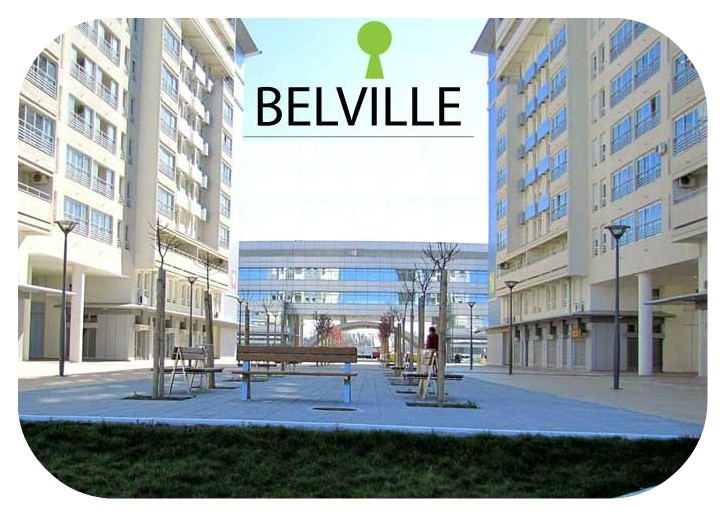 If you choose to come to Belleville (beautiful city), you will need about 15 minutes by public transport (bus line 95 will take you to the heart of the city), and that might be the biggest flaw that this apartment might have. On the other side, in the same building you will find apartments Eight, Nine, Tenner and Gloria, with the same square footage and similar interior design, which makes Belville in general excellent choice for corporate accommodation.
When it comes to apartment Six, we believe that words that would describe it are a moderately and tastefully luxurious place to stay, luminous, with high ceilings and adequate prices. Belville could definitely be considered as one of the high-end Belgrade areas, even though it is located in the middle of gray and not very interesting New Belgrade. Everything in this residential complex is quite new and somehow always seems to be freshly polished and cleaned, which is not always the case anywhere else (not including our apartments, of course J ). Even garages are frequently maintained and very safe, which will be of special importance if you are travelling in your own car.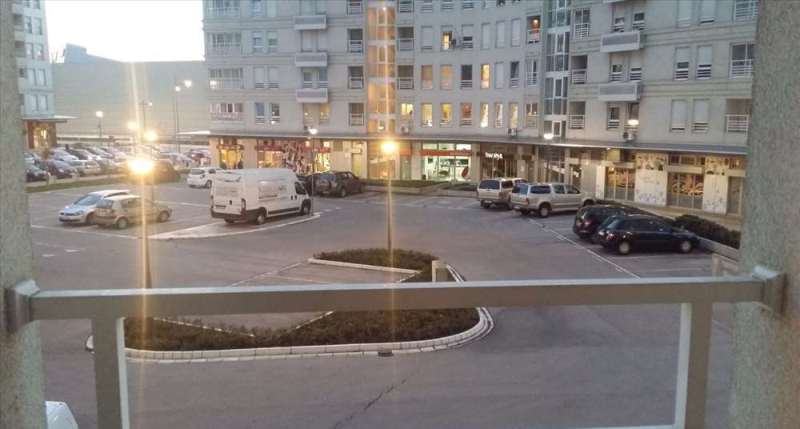 As for Delta City, in it, an effort has been made to put all of the Belgrade's shopping potentials in one place. This is good news for Belville residents, as they don't have to run all over Belgrade in order to find a particular piece of clothing, unless you find the process especially invigorating. One of the city's best cinemas – Cineplexx can be found in the third floor, as well as food corner, where you will find a substantial variety of food and cuisines, but most of it is, in fact, fast food.
It is easily concluded, that living in the close proximity from a mall has its numerous perks, and when you think about it in terms of beautiful accommodation options in Belville, renting an apartment for a day near Delta City  certainly seems like a good option.
As we pointed out earlier, the apartment Six is our newest accommodation possibility in New Belgrade, and it is a lovechild of innovation and tasteful interior design. Placed in one of the Belville "flowers" (all the buildings in the complex are named after a certain flower), Six provides all the necessary commodities and advantages for the tenants – great location, everything you might require at the fingertips, safety and privacy and highest hygiene standards around (not only when it comes to apartments, but also the whole Belville area is spotlessly maintained).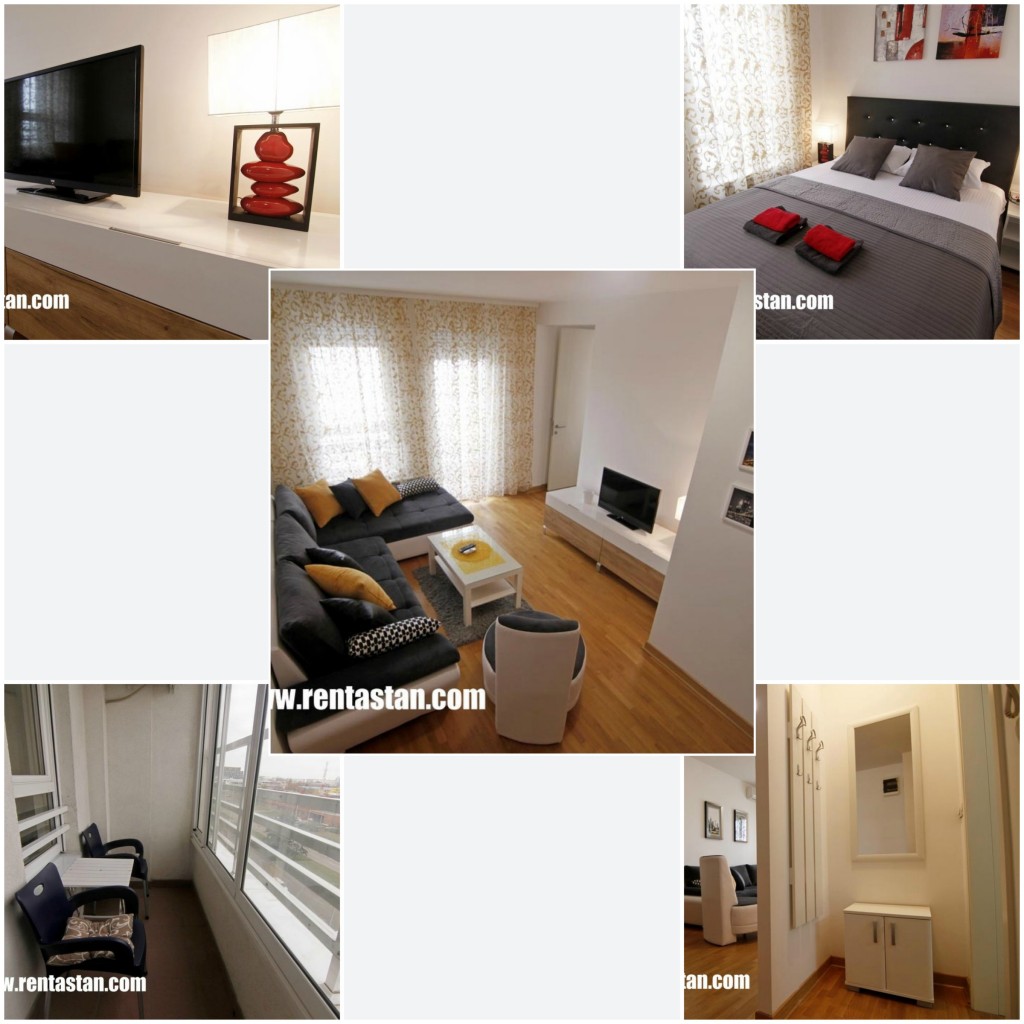 Let's start from the basics. First of all, the name of the apartment has nothing to do with the Devils and its evil doings. The apartment is named Six simply because it is located on the sixth floor (no Hell entrance is found). When it comes to space, 45 m2 are organized and equipped so that they can comfortably accommodate 4 grown-ups, ideally two couples (sleeping arrangement is 2+2). If you should require parking space, you've got it, and the use is included in the apartment price. The apartment also has a glazed balcony, which can be turned into a terrace by opening the windows. If you are coming to Belgrade on business, and you intend to stay for a longer period of time, Six again can be a very good possibility for medium term stays, especially because you don't have to worry about maintenance, as weekly cleaning fee is also included in the price. Plus, you are choosing to live in one of the best neighborhoods in Belgrade, and that says a lot.
Classic sophisticated shapes and contours of the apartment are embellished by interesting details in different colors and shapes, and all together they contribute to a warm home ambiance.
First that you encounter when you enter the apartment are shades of white in the small corridor, where you will also find enough place to put your shoes and clothes upon arrival and departure. On your right is a practical bathroom, which matches the whiteness of the corridor and where you will find the necessary toiletries for your stay (towels included).  What you should keep in mind, if 4 guests are staying in the Six, is the schedule of bathroom use, as two might be a crowd in there. What you needn't worry about is the hygiene and cleanliness of the bathroom, because it is cleaned and disinfected after every stay.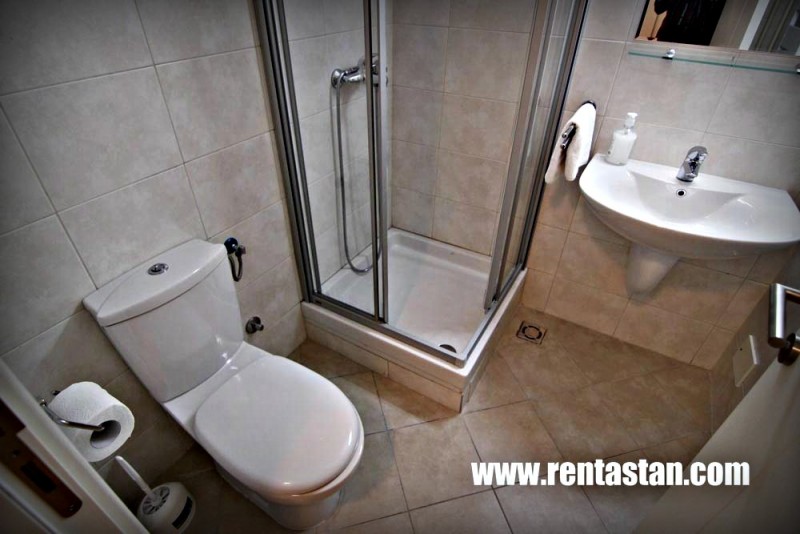 Look to your left and enter a spacious room full of light where you will find a harmonious symbiosis of dining area and living room. Two areas are functionally partitioned so that there is enough space, and yet the room is compact and quite cozy. The dining table and the modern chairs are in the shades of grey and white, and that trend continues throughout the room, with an addition of colorful details that live up the room. Huge modern L-shaped sectional sofa is the focal point of the sitting area, with its polka dots and mustard yellow cushions and ability to accommodate two sleeping personas when it is opened to its full potential. Your favorite place may easily become the modern armchair that is paired up with the sofa, and yet it stands out for its unusual design (it doesn't actually have armrests, but it's still interesting). If you don't feel like going out of your apartment, you can always entertain yourself with cable TV that is available free of charge and you can watch it on flat screen TV that is perfectly positioned in order for you to watch it from the sofa. When it comes to decorative details, they follow the pattern "less is more", so if clean lines and few tasteful detail (pictures, lamps and luscious curtains) are to your liking, chances are, you will like the Six. As with all of our other Belville apartments, Six has air-conditioning (that is also free of charge), albeit you will barely have any need of it even in the hottest days of summer, and not use it at all in winter, thanks to exceptional heating and YTONG isolation system, which might as well be used in Antarctica (though we didn't check in with polar bears).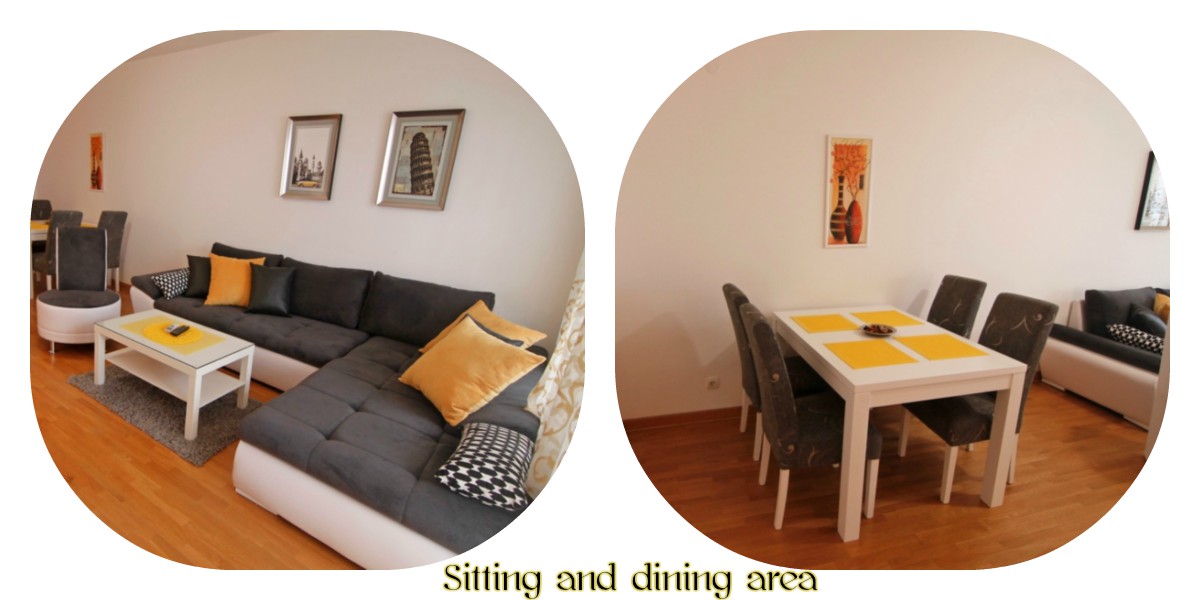 From the sitting area lead two paths – one to the bedroom, and other to the kitchen, which is comfortably nestled into an L-shaped space. Beside the modern design of wall cabinets, in the kitchen you are also provided with ceramic hob stove and all other necessities. One other thing particularly comfortable when it comes to Belville apartments in general is that they have a special room where all the bulky appliances, such as water heater, refrigerator and washing machine reside, but this space can also be used for all the chunky suitcases that will get in the way.

Second door leads to a compact bedroom, and here is where the shades of red take some precedence over gray and black. Red pillows, beautiful night lamps and free-style pictures over the big queen-size bed put some passion in the place of action. The atmosphere is brightened by ivory-colored walls, and all the clothes can be put in a built-in closet, a handy plus for all those who don't fancy "living out of the suitcase". Bedroom is also very bright, thanks to the big windows, which are exact replicas of those in the living room.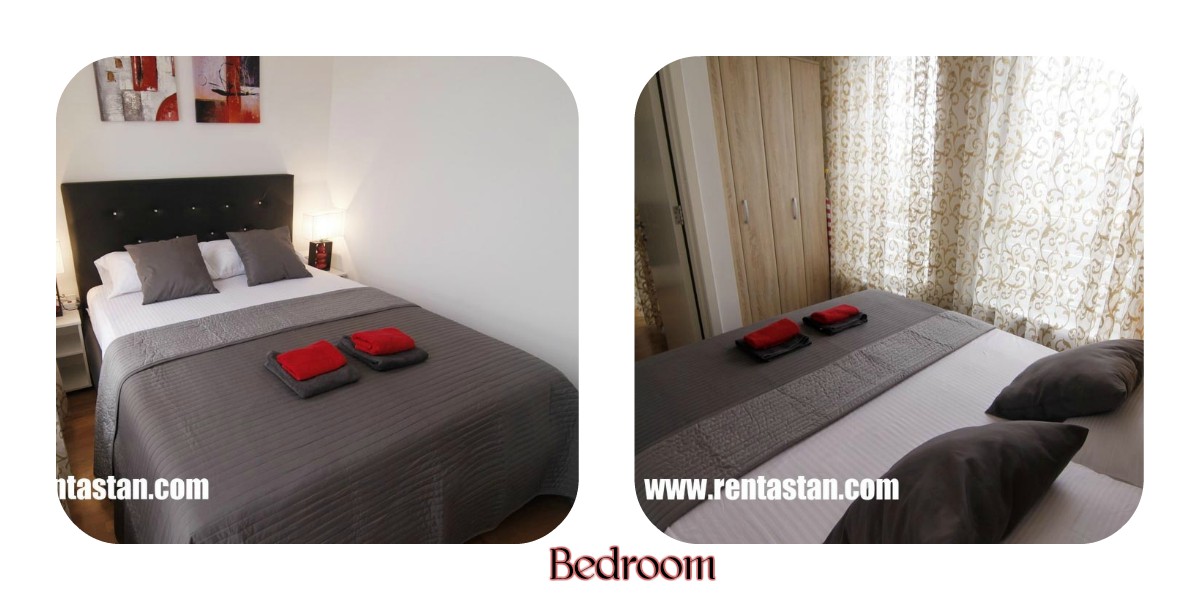 In the end, one should mention a sizable balcony, which can be used both as a relaxing area and designated smoking zone. Truth be told, the Belville view might not be the best one you can find in Belgrade (New Belgrade view is predominately grey and uneventful), but the nights on the balcony still sound nice in case you are too lazy to go outside.
When it comes to the question of Belville availability, it is important to note that reaching this neighborhood from the airport is a breeze, and the same goes for getting from Bellville to city center. Bus transport is much easier to manage because across the street from the complex is the bus stop for the bus line 95, which will take to the heart of Belgrade in under 20 minutes (more or less, depending on the time of day).
Similarly as all of our other articles, Apartment for a day near Delta City is made to show all the advantages and amenities of our best apartments, and Six, our newest Bellvile apartment, is definitely one of them. Of course, we are not interested in the games of persuasion. Both location and interior of the apartment Six speak quite loudly that living in Belville neighborhood, right next to one of the biggest malls in Belgrade, is a good way to go.
A day in Delta City (and other interesting places)
There are many interesting things to see and do in Belville, and you can read all about it in one of our articles, here in Apartment for a day near Delta City there will be talk about aforementioned mall, and there is a lot to say. Living next to what is actually an all-encompassing supermarket has numerous perks, so in Delta City you can find virtually anything that crosses you mind, from towels with your name embroidered to car wash room. When it comes to clothing brands, you will find what is more or less usual for this part of Europe – H&M, Bershka, NewYorker, Stradivarius, Zara etc, but if you prefer your clothes from not so mainstream racks, you have at your disposal Massimo Dutti, Monsoon and a couple of other brands. If leather is your thing, that you can pop to Manual shop, a domestic manufacturer of leather apparel, greatly appreciated for the quality and durability of their brand. If you are fishing for posh souvenir or you have a sweet spot for watches, you can always make a pit stop at the Bomar shop.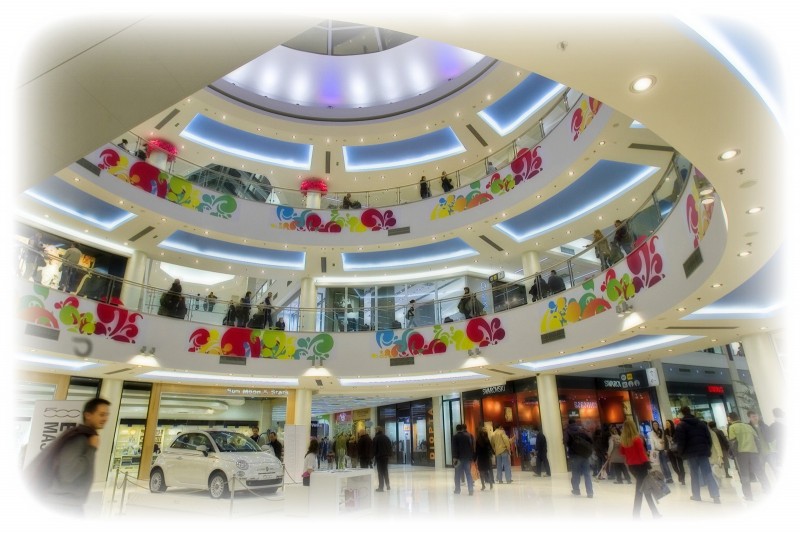 Supermarket Maxi Delhaize is omnipresent in Serbia and Belgrade, and though you have one in Belville, in Delta City you can quench your thirst for Serbian products in Super Maxi, which has a broader variety of choices and has more flavor to it, so to speak. In case you need an ATM or an exchange office, both are available in Delta from 10-22h. If you are coming to Belgrade with your own vehicle, you can easily clean it and maintain it, because there is a car wash on the Delta City parking lot.
Entertainment zone
On the second floor of the mall is nested Cineplexx movie theatre, which always offers projections of all or most of the popular movies, so in case you just feel like going to the movies all of a sudden, you only need a couple of minutes of walking from Six to your destination. On this floor you will also find children's heaven, as the whole second level is equipped and molded for family entertainment. First in line is the Circus, one of the most modern family entertainment centers in the Balkans, with its 4-level 3D maze. Then there is Ultra Center Galactica, specifically dedicated to educational entertainment of children, and it is also one of the most popular places in Belgrade for children's birthday celebrations. Creative workshops, interesting museum exhibits, the Planetarium – all this in order to distract your young ones, while you relax with a cup of coffee or decide the color of this year's bathing suit.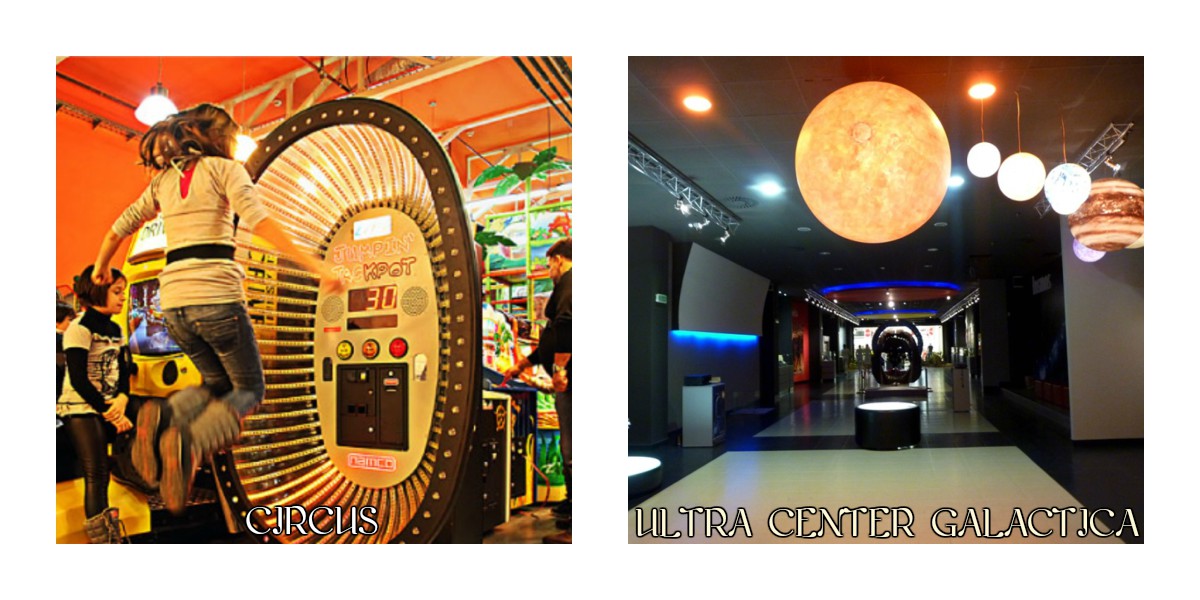 If you are not coming with progeny, chances are, this first part wasn't particularly appealing to you, but maybe some upcoming information will seem interesting. On the second floor of Delta City, there is a slight upgrade to the aforementioned movie theatre – No limit fun 5D Adventure. Unlike all other cinema halls, here you can experience a new dimension of movie watching, with effects of wind, rain, smells and chairs that move in tune with movie action and vibrate. Of course, this is not as exciting as one might expect, but it might be an interesting experience, and if nothing else, you'll get a good laugh out of it.
If you are a gamer, and gaming is a way of life for you,  then your sanctuary will be the Games shop, also located on the second floor of mall (there are things on the other two floors as well, scout's honor).  Whatever it is that you need from gaming world, they can probably provide. No further explanation needed.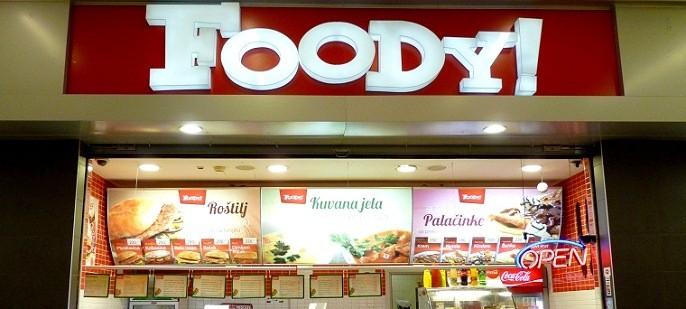 Of course, one more thing we must mention is definitely food, without this part, in Apartment for a day near Delta City  would be incomplete. As in any mall, Delta City has its Food Corner and all the fast food sins are represented here (Foody, KFC, Caribic pizza, and McDonalds naturally), but you can also find delish Chinese food in Asia food restaurant (special recommendation for sweet sour chicken). If you are a fish aficionado, then Fish&Bar will indulge your pallet. After the main meal, if you choose not to feel completely guilty and the calorie numbers, you can take your frozen yoghurt dessert at YoMama. If you are more of a dekadent sort, go on and step into the chocolate boutique Adore Chocolat, and feast your eyes and taste buds on the finest hand-made imported chocolate.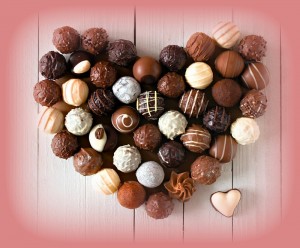 We won't even try to list all that you can encounter in Delta City mall, but it is obvious that its proximity makes your life in Belville and Belgrade much easier, starting with shopping to pretty much anything else, you can even make it a night out in the mall, why not. When we stressed that Delta City is one of the biggest advantages when staying in our Six apartment, we were not joking around.
Another useful information for all those coming to Belgrade on business is the proximity of business complex Airport City. This is the first business park to open in Belgrade, and if you're shopping for a business building or offices, this a place to be. When it comes to practicality and innovative design, Airport city management is working on making the complex the best option there is in Belgrade.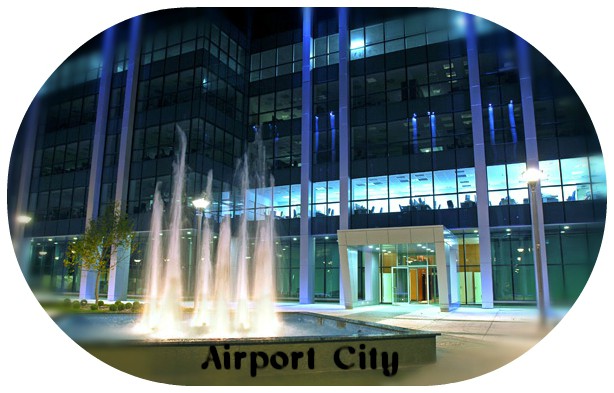 On the other hand, quite close to Belville is the Sava river coast, where you can walk and enjoy the fresh(ish) air and even go out on the evenings to one of floating night clubs, which are by far one of the best clubbing spots in the city. If you are into antiques and generally old stuff from Serbian history, or maybe you just need cheap, but not too shabby clothes, you can always go to flea market that is a couple of bus stops away Belville.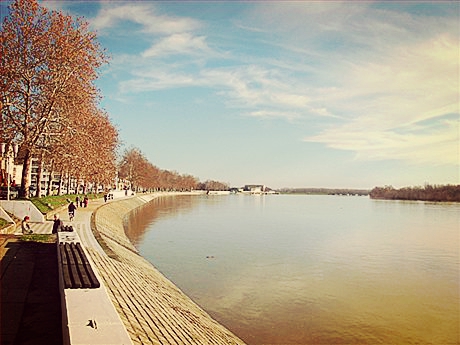 Also, if you decide you want to explore New Belgrade a bit more, you can take a trip to Chinese mall, located in the so called Block 70. It is widely known that everything coming from China is generally cheaper (unless it wears a label of a famous brand, in which case, never mind),  and in this chain of buildings in block 70 you indeed will find more or less anything that you require, only that everything comes with a weird smell. The rub with any kind with most Chinese merchandise is that its quality is less than satisfactory and in some cases just downright awful. Of course, if you need something that can be easily replaces like slippers or something in that area, buy away, but do not touch anything concerning electric appliances, simply because chances are you will waste your money. Under any circumstances do not buy a an adapter for your phone or laptop here, because rest assure, it will burn out in a matter of minutes, and you will be lucky if the appliance itself is not permanently damaged.
When it comes to pastimes in Belville, if you are a sporty type, you have jogging tracks all over the complex; there are also couple of interesting cafes, where you can take you daily coffee infusion (NY Bar), and if you are an artsy soul, you might as well take a look at Vujadinovic Gallery and Perunov Gallery.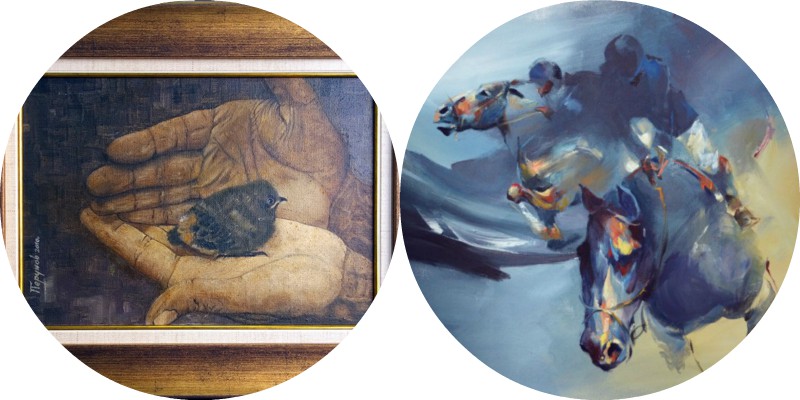 After all the bragging (though no exaggeration), there is not much left to say. There is a huge number of apartments in Belgrade, so choices are not easy. All we can say about apartment Six is that is quite a comfortable abode, both for its location and design and affordable pricelist that comes with it. Happy apartment hunting.