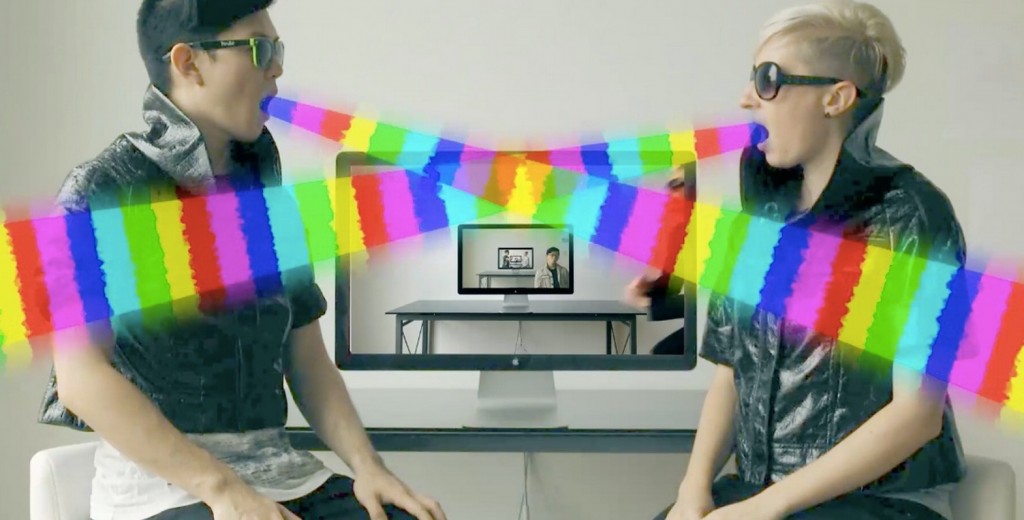 To be perfectly honest, RESONATE 2014 seems like an extremely eclectic and uber-cool event, even to those with a less sophisticated taste than ours (and ours is fairly unsophisticated). In spite of the ubiquitous hipsterishness about it, anything that even remotely engages and promotes residual creative capacities of this fairly unfortunate part of the world has our undisputed support. RESONATE festival, takes place in the period between 3rd and 5th  of April and its participants will have the privilege of hearing some of the most significant people of the creative industry of the world today. This truly is a must for all those who want to keep abreast with the latest developments in the realm of music, visual arts and digital culture. Now, if you happen to be looking for an accommodation in Belgrade during RESONATE festival, or more precisely a serviced apartment in Belgrade for the duration of RESONATE Festival, we'd like to share our five cents on the topic. Therefore, the next couple of lines will be devoted to what we deem to be a good short term accommodation option in Belgrade during RESONATE 2014. Finally, for those who intend to visit Belgrade for the sake of attending RESONATE festival and extend their stay until the 06th April we will provide the offer that will be hard to decline.
To those who have already firmly decided to come for RESONATE to Belgrade, and wish to skip hotels, the first question that springs to mind probably is: Well, which serviced apartments would be a good choice of accommodation for the duration of the festival? Without a grain of bias, we'd say any of the apartments close to The Endowment of Iliya M. Kolarac (referred to as Kolarac in teh text below) or any apartment close to the Museum of Yugoslav Cinematography (hereinafter Kinoteka). However, if you'd have asked us well Which apartments close to Kolarac or Kinoteka are good for me?, we'd be damn biased and offer you our opinion as to what would constitute a good short term apartment rental for the duration of RESONATE 2014 Festival.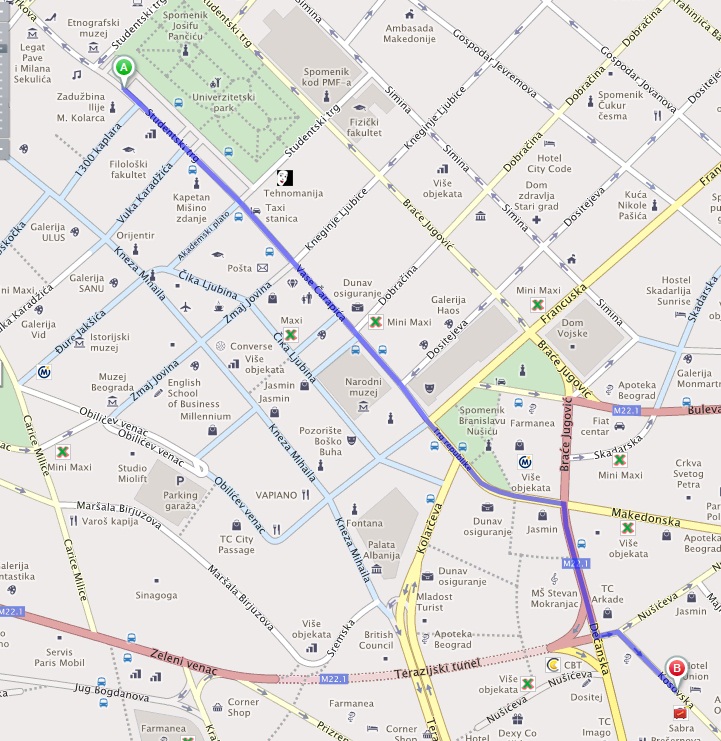 The distance between The endowment of I.M. Kolarac and Museum of Yugoslav Cinematography
The distance between Kolarac and Kinoteka is an 864 meters walk through a prime area of Belgrade, so whatever neighbors on of them is fairly close to the other. A competitively priced accommodation for one person very close to Kolarac is most definitely studio in Brace Jugovica street. Snuggled and isolated form the surrounding noise, it's a couple minutes walk from either of the locations. In case you're seeking an aesthetically pleasing abode, a great choice would be DELUXE apartment. Above average in a range of its features, this apartment is ideal for to and cosy for three and it's literally a stone throw away from Kinoteka. Two serviced apartment which may be hard to beat location-wise are most definitely PARIS and Theater. PARIS is a nice and comfortable studio apartment in Makedonska Street at a good price and a capacity for love-nesting; while Theater can easily become a sleeping spot for 4 people interested in the subject of the role of technology in arts and culture (which happens to be the theme of Resonate 2014).
 When talking about short term accommodation for RESONATE festival, we'd do injustice to apartments BELGRADE and PALACE should we fail to mention them. BELGRADE is in a picturesque part of town (once a bustling trade area) and PALACE is located in the most romantic bit of the city that happens to be one of oldest urban neighborhoods of Belgrade. Each with its own advantages they may become a beautiful addition to the intellectual momentum during the three days of the festival.
 There is little else we could add to the subject. Even if you aren't professionally tied to the field of design, we urge you to check out the beautifully designed web presentation of RESONATE festival and get some more info on this truly unusual and interesting event…
.
Resonate is a platform for networking, knowledge sharing and education. It brings together artists, designers and educators to participate in a forward-looking debate on the position of technology in art and culture.Held each year in Belgrade-Serbia, the festival lasts for three days and provides an overview of current situation in the fields of music, visual arts and digital culture. Guest artists, lecturers and other participants are chosen to represent the cutting edge of the contemporary creative industry in the world.