FONTANA (At the fountain)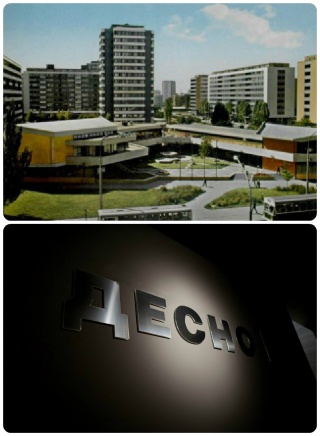 FONTANA (AT THE FOUNTAIN) is a spatial designation which refers to the least attractive fountain in Belgrade - the one built in New Belgrade's commieblock 1. The small plateau surrounding it hosts a public transport stop, a big supermarket and a (whaddya know) cinema. A local patriot and correspondent A. J. has jotted down the following:
FOUNTAIN Cinema was built in 1967 and after more than a decade of neglect and oblivion, the favourite spot of New Belgrade's moviephiles was reopened on the 8th March 2012. Living up to the name of an old-time punter, who'd never go for mainstream as a first choice, this cinema is chiefly the home of domestic/European movie, with a keen interest in children's movies. Fountain's new image embraces 3D movies as well as the classical 35 milimeter formats. It is a host to various film festivals and live broadcasts of operas and concerts. The facility is under protection of the Cultural Heritage Preservation Institute.

McDonald's restaurant across the street is the place for local kids to exchange coy glimpses with their crushes, but also for their counterparts from the nearby Studenyak (students hall of residence). It is not just the dense traffic network that interveaves at the Fountains crossroads to Zelenyak, Zemun, Bezhaneeya, Autocomanda and many other parts of the city, but also the former JATs bus that will take you form the airport straight to the heart of the city.
We have no apartments in the close vicinity of the FONTANA but we do invite you take a look at some other lovely
apartments in New Belgrade
.
RETURN TO BELGRADE SLANG TOPNYMS DICTIONARY